If you are a student or a researcher then you may need to publish your research paper in good journals. In this process, you might have come across the Scopus Indexed or Web of Science Indexed journals. Currently, so many Fake and clone Scopus indexed journals circulated in Facebook and WhatsApp groups.
Fake and cloned Scopus indexed journals circulated in Facebook and WhatsApp groups
In this post, we are going to discuss such journals and conferences. Here we will guide you on how you will identify it and make yourself safe from this new type of fraud going on the Internet.
What is Scopus Indexed Journal?
Scopus is one of the largest databases of Journals, and periodicals on different topics. The journals listed on Scopus are considered to be good and referred by many universities for academic and research requirements.
What is a cloned journal?
A Clone journal is such journal whose website is a clone of the Journal's Original Website. Here the cloned website looks exactly the same as the original website. But the papers published on the clone website will be different.
Some people promote these clone Scopus-indexed journals in various WhatsApp groups, Telegram groups and Facebook groups. As a researcher, you need to be aware of this.
How to identify cloned Scopus indexed journals.
Go the scopus.com the official website of Scopus.
Check the Journal's name and ISSN.
Check the link to the Journal's home page on the Scopus website.
The website linked to the Scopus website is the journal's original website.
Other than this all websites are clones and fake.
Note: Sometimes several researchers complain that the link of the journal's website on the Scopus page also goes to the clone one. Such websites are closely monitored by the Scopus team and removed.
How to identify predatory journals?
While searching journals if you emphasize some points then you can definitely identify the clone and predatory journals.
Check the Journal's identity like
ISSN check from issn.org
Frequency of publication
Number of Papers published in each issue (Check if the journal publishes too many papers in one issue. Generally reputed journals publish an average of 20 to 30 papers in one issue.)
Journal's editorial Board(Editorial board members' email IDs do not display, Some times the journal may add an irrelevant person's name and designation on the editorial board without their concern.)
Journal editorial office (Predatory journals do not provide detailed office addresses. Instead of this they may give only email IDs or contact numbers or sometimes it only gives contact forms.)
Journal necessary information on the home page.
Rapid publication is promised. ( You may have seen some journals advertise on social media to publish papers in 3 days or 5 days.)
Beall's list of predatory journals, is this the correct one?
On his blog, Scholarly Open Access, University of Colorado librarian Jeffrey Beall kept a list of shady open-access publishers known as Beall's List. The list attempted to identify open-access publishers who published any article as long as the authors paid the open-access charge without conducting true peer review. Beall's List initially began in 2008 as a personal project, but by the middle of the 2010s it had gained a lot of popularity.
Currently, the controversial website https://beallslist.net/ which is clamming to be Jeffrey Beall's list of journals is a completely fake one.
On the website itself, it is written " This website is a copy of Beall's list of predatory publishers & journals. It was retrieved from the cached copy on 15th January 2017. "
In the disclaimer section, it is mentioned " I am not Jeffrey Beall. I prefer my identity to be anonymous, largely for the reasons that Beall mentioned in his recent article."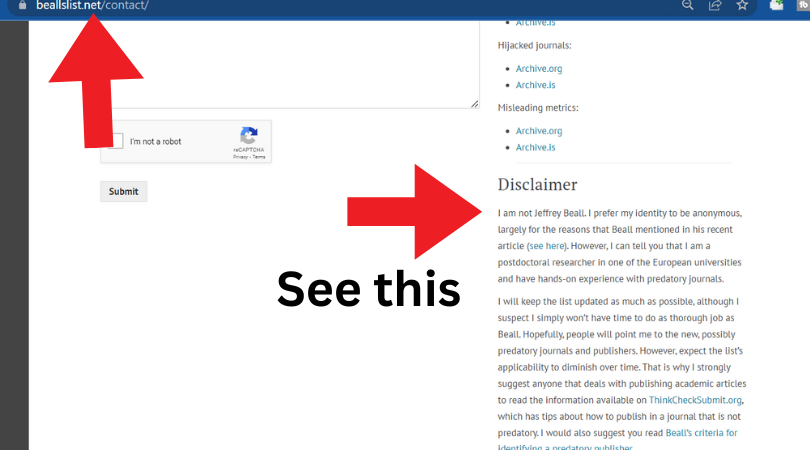 You find the detail of the Beall's List and its removal form here
So as a researcher, you should not follow this fake website to check clones and predatory journals.
Do not choose any journal from Facebook group posts
As we discussed there are so many Facebook groups that promote clones and fake Scopus-indexed journals. As a young researcher, you may easily get into the trap.
So do not choose any journal which promises fast publication like within 5 days or 30 days in Scopus-indexed journals.
Do not choose any conference organized by unknown organizers times one single person posts a conference, Boucher. Such conferences are predatory in nature and may be organized only to make money.
Read here the Scopus Updates Click here
Final words
The universities should take action and remove Scopus-indexed journals as mandatory journals. No doubt Scopus is a reputed Journal indexing agency and indexes reputed journals. But due to less availability of publications from publishers such clone and predatory Scopus-indexed journals exists. This is all about the topic Fake and clone Scopus indexed journals circulated in Facebook and WhatsApp groups.