The European Research Council, set up by the European Union in 2007, is the premiere European funding organization for excellent frontier research. Every year, it selects and funds the very best, creative researchers of any nationality and age, to run projects based in Europe. In this article we will discuss ERC announces research grants over €600 Million to Researchers
ERC announces research grants over €600 Million to Researchers
ERC grants are among the most prestigious in Europe, awarded solely on the basis of excellence. But that means they tend to be hosted in well-resourced institutions that can attract the best researchers. ERC announces research grants over €600 Million to Researchers
The European Research Council announced the latest winners of its consolidator grants, a €2 million award for the best mid-career scientists, with awards worth €600 million going to researchers in 24 countries.
The European Research Council announced the winners of its latest Consolidator Grant competition: 301 top scientists and scholars across Europe. Funding for these researchers, part of the Horizon 2020 research and innovation programme, is worth in total €600 million. With this support, the new grantees will have a chance to build up their teams and have far-reaching impact.
The grantees will carry out their projects at universities and research centers in 24 different countries across Europe, with Germany (52 grants), the United Kingdom (50), France (43) and the Netherlands (32) as leading locations. In this competition, researchers of 37 nationalities received funding, amongst them are notably Germans (55 grants), French (33), Dutch (28) and Italians (23). The research projects proposed by the new grantees cover a wide range of topics in physical sciences and engineering, life sciences, as well as social sciences and humanities.
List of selected researchers: https://erc.europa.eu/sites/default/files/document/file/erc-2019-cog-results-all-domains.pdf
ERC has received all total 2453 proposal form which 301 has been selected that means the success rate is only 12.3 %. Physical Sciences and Engineering has received the highest grants i.e 134.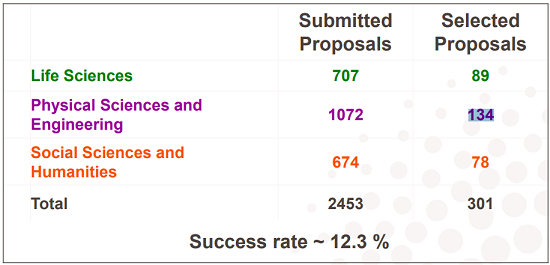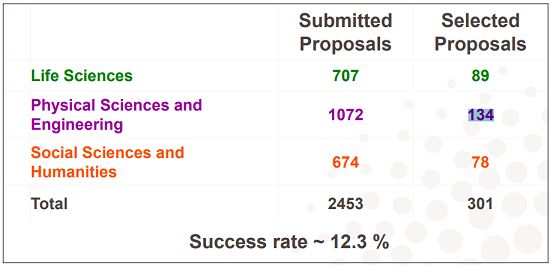 Why ERC Consolidator Grants awarded?
The ERC Consolidator Grants are awarded to outstanding researchers of any nationality and age, with at least seven and up to twelve years of experience after PhD, and a scientific track record showing great promise.
Also read: Lindemann Trust Fellowships all things you need to know
Research must be conducted in a public or private research organisation located in one of the EU Member States or Associated Countries.
The funding (average of €2 million per grant), is provided for up to five years and mostly covers the employment of researchers and other staff to consolidate the grantees' teams.
Final words
ERC has funded more than 9,000 top researchers at various stages of their careers, and over 50,000 postdocs, PhD students and other staff working in their research teams. As ERC announces research grants over €600 Million to Researchers so this additional 301 receivers will definitely make a change in the field of science and research.